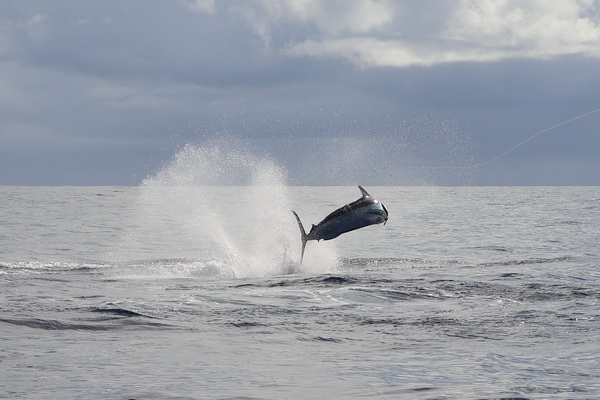 TOM SCHUMATE INVITES MAJESTIC MARLIN FOR A 3 DAY OVERNIGHT FISHING
March 5th to 8,  2020.
Mateus and Ryan and I got to slum it last week, Tom Schumate invited us out for a ride on his 65 ft Custom Woodnutt called Patron. Brazil would be the last place I thought I would be riding on a Custom Woodnut, but here we are. Tom had already released 3 blues the first 2 days out from 450 to 550lb. Thursday afternoon we rode the Camargue out to jump aboard the Patron, meeting the boys, Tom, Capt. Ben Levi and deckhands Chris and Alexandrie and spending our first night on the Patron. Friday morning Tom got an early bite and released a 450lb blue real quick. Mateus won the coin toss between himself and cousin Ryan and within moments Mateus was hooked up, after a 40-minute fight he released a blue around 550lb. Ryan was up but no luck pulling the hook on 2 nice blues that afternoon, unfortunately, Ryan had to wait to get his blue. The next morning the boys were out of bed quickly after getting the 05:50 hours and after a 40 min fight, Ryan released a nice blue around 450lb. A southerly weather change come through with a little rock and roll that night. Sunday morning another early bite the same time 05:50 and Mateus was first out of bed and to the chair with a lively blue on the line, giving us lots of jumps, with the rain coming in Chris had the leader on a frisky fish, finally getting her under control and releasing a nice 650 lb. With the weather turning sour Ben headed in to drop us off to the Camargue which met us out offshore Canavieiras and Tom being the true fisherman he is, went back out into the shitty weather but it paid off releasing another blue around 550lb. On our way back to Canavieiras we got the rods out caught some Bonitos for the kids, all up being a great trip. ASDIP. Many thanks to Tom and his team on the Patron for a great time, hopefully, will be able to ride along in April and then up to Fernando de Noronha.
Cheers and tight line to all,
Shawn.
5 a 8 de Março de 2020
Mateus, Ryan e eu tivemos que abaixar o nível na semana passada, Tom Schumate nos convidou para um passeio numa lancha Frank Woodnutt de 65 pés chamada Patrón. Brazil seria o último lugar que eu imaginaria andar  numa Woodnutt, mas aqui estamos. Tom já tinha liberado três azuis nos primeiros dois dias de 400 e 550lb. Na tarde da quinta passada levamos Camargue lá fora e pegamos uma carona na Patron encontrando com  Tom, Capt. Ben Levi and deck hands Chris  and Alexandre  passamos a nossa primeira noite a bordo. Sexta feira pela manhã Tom conseguiu uma batida logo cedo e liberou um azul de 450lbs bem rápido. Mateus venceu o cara e coroa do seu primo Ryan e em poucos momentos ele estava com um peixe na linha, depois de 40 minutos de briga ele liberou um azul ucom cerca de 550lbs. Ryan estava para jogo, mas não deu sorte o azol saiu de dois belos azuis naquela tarde e ele teve que esperar um pouco mais pelo seu azul. Na manhã seguinte os meninos levantaram da cama rapidinho depois de uma batida às 05:50, depois de 40 minutos Ryan liberou um bom azul com cerca de 450lbs. Uma mudança no tempo com ventos sul chegou e a nossa noite teve um pouco de movimento naquele dia. Na manhã de sábado tivemos outra batida bem cedinho de novo às 05:50 e Mateus foi o primeiro a sair da cama para a cadeira com o azul bem danadinho na linha, o bichinho deu vários pulos e com a chuva Chris tinha um peixe serelepe no leader que foi colocada sob controle e liberada estimando 650lbs. Com o tempo azedando para o nosso lado bem seguiu caminho para nos levar de volta para Camargue que nos encontrou na costa de Canavieiras e som sendo o pescador que é voltou para o tempo terrível, mas valeu a pena, liberou outro azul de 550lbs. No nosso caminho de volta para Canavieiras colocamos os anzóis na água  e as crianças pegaram alguns bonitos tudo terminou sendo uma ótima viagem. ASDIP. Muito obrigada a Tom e à sua equipe na Patron pelo  tempo maravilhoso, esperamos conseguir ir no passeio de abril e depois disso os rapazes vão para Fernando de Noronha.
Um abraço e linhas apertadas para todos,
Shawn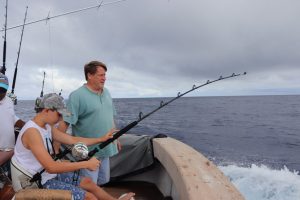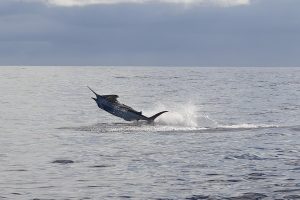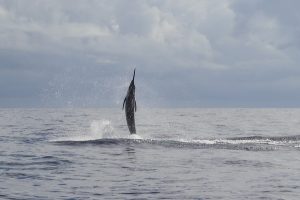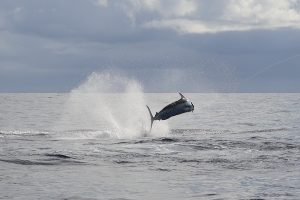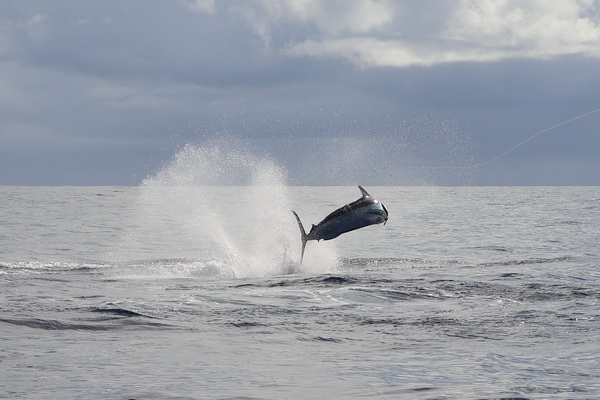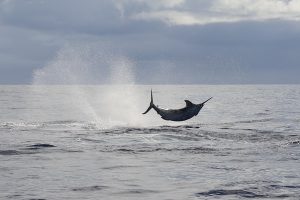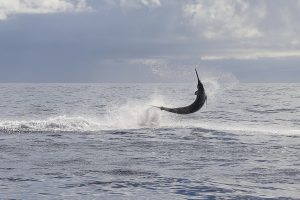 Instagram: https://www.instagram.com/majesticmarlinbrazil/?hl=pt-br