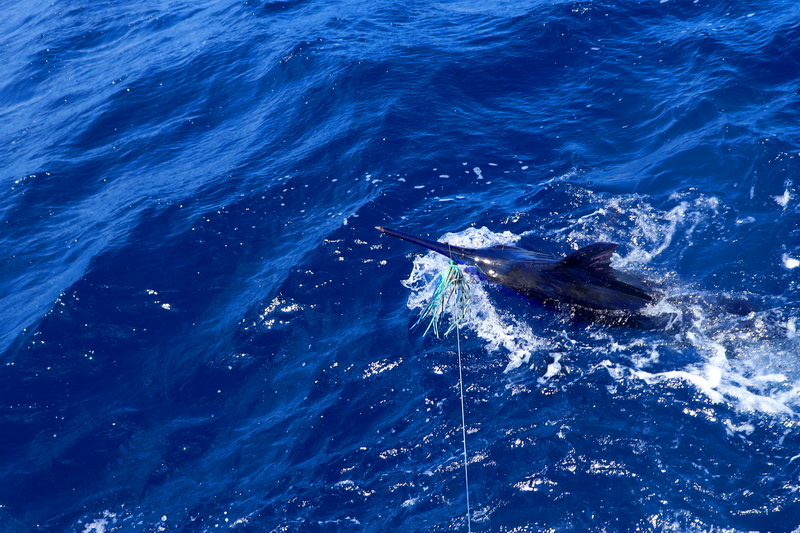 December 26th, 2018 / 26 de dezembro de 2018.
LEUR LOMANTO JR
26-12-2018 Blues 1 from 2, Sailfish 1 from 1, raised another blue and sail.
Leur and family Fernando and son Mario had a sloppy day out there, slow start finally got a bite from a nice fish unfortunately headed for the commercial boat, after some work we got free from the anchor line but the fish pull off 10 minutes later, shit happens.  Soon after had a double header and Leur hooked into another nice blue and we could not get the rat to eat we released his fish at 500 lb. While pulling the gear in to get past a surface long line we hooked a sail for Fernando had some great jumps close before releasing, nice one mate. Fernando also got a nice dorado for dinner. Cheers.
26-12-2018 Azuis 1 de 2, Sailfish 0 de 1, avistamos outro azul e um sail.
Leur e seus familiares Fernando e o cunhado Mario balançaram lá fora hoje, começamos devagar até finalmente termos um ataque de um bom peixe ele saiu em direção a um barco comercial, depois de termos algum trabalho nós nos livramos da linha que passou pela ancora, mas o peixe se soltou dez minuto depois, merdas acontecem. Um pouco depois nós tivemos um doublé e Leur ferrou um bom azul, nós não conseguimos que o menor mordesse, mas liberamos o azul de Leur com 500lbs. Enquanto tirávamos as lulas para passar por um espinhel nós fisgamos um sailfih para Fernando que deu alguns bons  pulos perto do barco antes de liberarmos, bem feito rapaz. Fernando também pegou um dourado para a janta.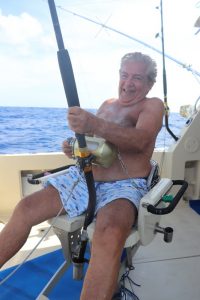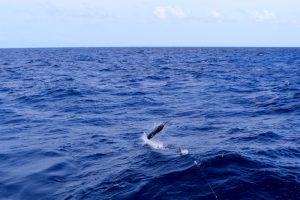 Instagram  https://www.instagram.com/majesticmarlinbrazil/?hl=pt-br