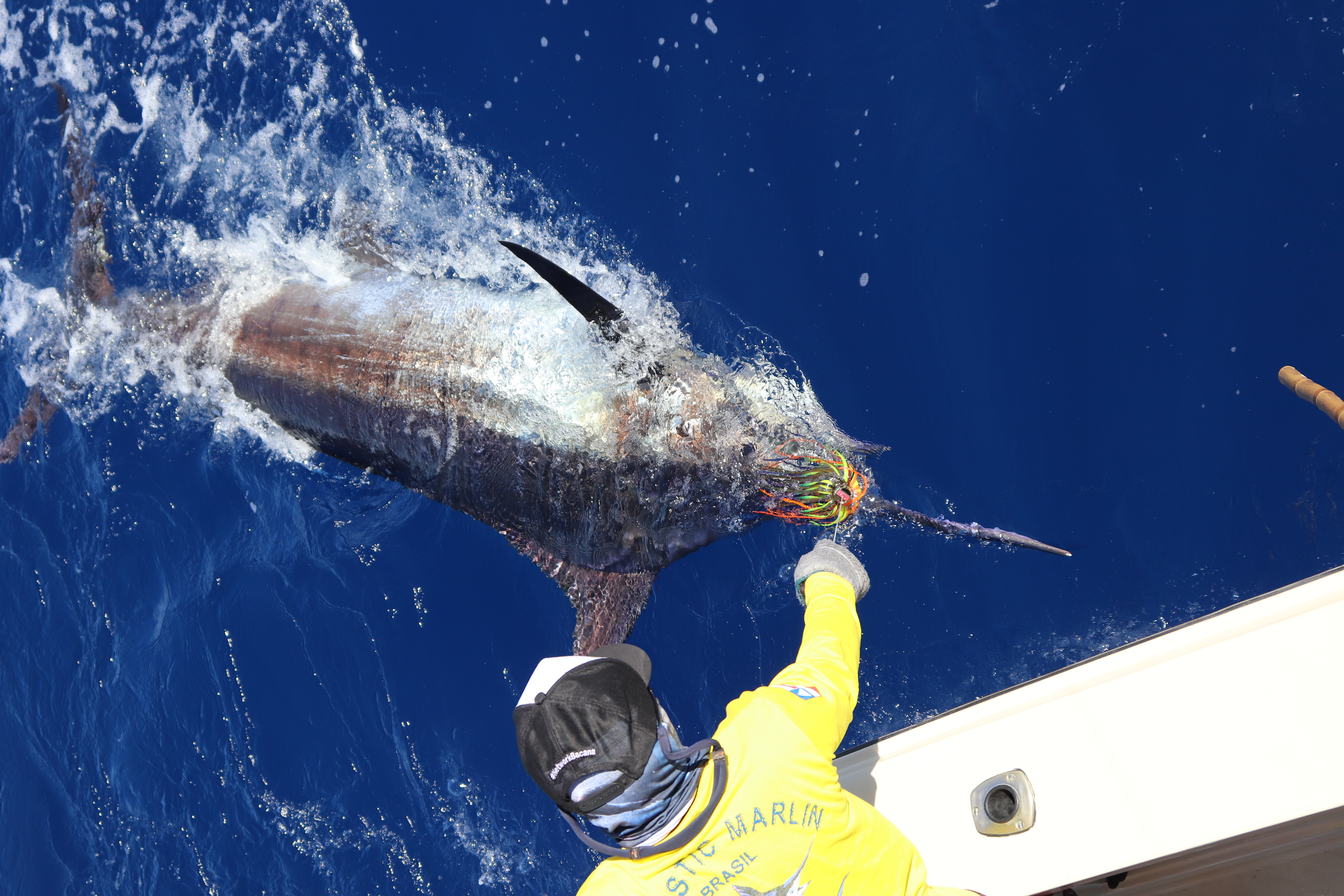 Fishing with white marlin record holder
 EVANDRO , EDUARDO COSER  & DAVID TEIXEIRA JR
15-01-2020 Blues 4-4-3 White 1-1-0 Sail 1-1-0
Evandro Coser is back fishing with Majestic Marlin along with his son Eduardo and good friend Junior. Evandro has held the 30lb White Marlin record for the last 41 years (WOW!!!) With a quick start to the day with Eduardo hooking up to a nice blue and after a 30 min fight he released a 550 lb blue. Not long after on the same spot Junior got the bite and a tough fish, after an hour fight Junior released another nice blue around 500 lb. The boys caught a couple of nice Dorado for dinner, then we missed out on another nice blue but a late bite put Eduardo back in the chair releasing a rat. ASDIP this office work sucksJ.
15-01-2020 Azuis 4-4-3 Brancos 1-1-0  Sails 1-1-0
Evandro Coser voltou para pescar com a Majestic Marlin junto com o seu filho Eduardo Coser e seu amigo Júnior. Evandro tem um recorde de um marlin de 82kg de um Marlin Branco que não foi quebrado nos últimos 41 anos (UAU!!!). Começamos o dia rápido com Eduardo fisgando um ótimo azul  que depois de uma briga de meia hora foi liberamos o peixe estimando-o em 550lb. Pouco tempo depois no mesmo lugar Junior pegou a batida e um peixe durão, depois de uma hora de luta Junior liberou outro ótimo azul com cerca de 500lb. Os rapazes também pegaram uns bons dourados para o jantar e depois nós perdemos outro azul dos grandes, mas uma batida tardia e Eduardo estava de volta na cadeira agora liberando um azul pequeno.
16-01-2020- White 1-1-1
As you can see a nice boat ride today, managed to hook a lost white marlin, little late for whites. ASDIP.
16-01-2020 Brancos 1-1-1
Como os números mostram hoje tivemos um bom passeio de barco hoje, conseguimos fisgar um branco perdido, está um pouco tarde para eles.
Instagram: https://www.instagram.com/majesticmarlinbrazil/?hl=pt-br