December 27th to 28th, 2019/ 27 a 28 de Dezembro de 2019
Charles Cohn e Russell Williamson
27-12-2019 Blues 2-2-1
We are back at the office.  Fishing for the first time with Majestic Marlin Charles Cohn and cousin Russell Williamson had a slow start the weather was all over the place, Charles finally got a bite from a nice fish, new to the game Charles was in for a ride tough girl after one hour and 20 minutes he got his first blue marlin to the boat released at 850 lb. Damn great fishing. This fish had been though the ringers check out the photos she was beat up from head to tail not from us and still fought for over an hour tough fish. Russell got a late bite but pulled the hook after 10 minutes shit happens. ASDIP.
27-12-2019 Azuis 2-2-1
Estamos de volta ao escritório. Pescando pela primeira vez com a Majestic Marlin Charles Cohn e seu primo Russell Williamson tiveram um começo bem devagar, o tempo estava mudando a todo momento, Charles finalmente conseguiu uma batida de um ótimo peixe, novo no jogo Charles foi com tudo para a garotona e depois de uma hora e vinte minutos ele conseguiu trazer o seu primeiro marlin azul para o barco e o liberou com cerca de 850lbs. Que peixe lindo, viu? Esse peixe apanhou muito e tinha marcas da cabeça até a cauda, confira nas fotos, mas não foi por nós, ainda assim conseguiu lutar por mais de uma hora, peixe retado. Russell conseguiu uma batida tardia, mas o anzol soltou depois de 10 minutos. Merdas acontecem.
28-12-2019 Blues 3-3-1
The weather was much nicer today fishing was good catching off. Russell was hooked up early and released his first blue marlin around 400 lb well done mate, Imperium S5 Beluga Christmas Candy just arrived yesterday. Soon after Charles was hooked up but pulled the hook on another rat. Charles got the later bite but no luck staying hooked, nice fish around 700 lb next time boys. Back out in a couple of days, ASDIP Baby.
28-12-2019 Azuis 3-3-1
O tempo estava muito melhor hoje, a pesca foi boa, mas foi meio devagar para fisgar. Russell fisgou e liberou um azul de 400 lbs logo cedo, bom trabalho rapaz. A S5 Beluga Christmas Candy chegou ontem e já começou bem. Um pouco depois Charles fisgou, mas o anzol soltou de outro azul pequeno. Charles conseguiu a batida tardia, mas não teve sorte de manter o peixe que era muito bom, com cerca de 700lbs. Da próxima vez rapazes. Voltaremos em alguns dias.
.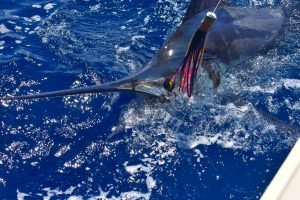 Instagram  https://www.instagram.com/majesticmarlinbrazil/?hl=pt-br
Facebook Majestic Marlin[/vc_column_text][/vc_column][/vc_row]