October 6th and 9th, 2019 /6 e 9 de outubro de 2019.
MIKKEL RASMUSSEN AND SONS
06-10-19 Blues 2-2-1, Whites 1-0-0, Sails 1-1-1 /  09-10-19 Blues 3-3-0, Whites 1-1-1.    
Hello Friends and fishers, Majestic Marlin Brazil is back into fishing mode. Our first trip was new comers all the way from Denmark Mikkel and his sons Mathias 9 and Elliot 8. First day out Mikkel and sons released a sailfish early and pulled the hook on a nice blue. The afternoon the kids caught a bunch of small tuna and Dad released his first blue marlin around 700 lbs. The next day the gang forgot there sea sick pills and we had a shorts day. Last day was a half day great fishing but the catching sucked, jumping off 3 blues all over 500 lb, the kids caught another 12 tuna and Mikkel release his first white marlin well done mate. Looking good so far with a full season stay tuned for the reports, out next week Cheers.
06-10-19 Azuis 2-2-1, Brancos 1-0-0, Sails 1-1-1 /  09-10-19 Azuis  3-3-0, Brancos 1-1-1.    
Olá amigos e pescadores, a Majestic Marlin Brazil está em modo pescaria ativado. Nossa primeira pesca foi com iniciantes direto da Dinamarca Mikkel e seus filhos Mathias de 9 anos e Elliot de 8 anos. No primeiro dia lá fora Mikkel e os meninos liberaram um sailfish logo cedo e perderam um ótimo azul. A tarde as crianças pegamas muitos atunzinhos e o pai liberou o seu primeiro azul com cerca de 700lbs. No dia seguinte a gangue  esqueceu de tomar os remédiospara enjoo e tivemos que reduzir o dia. Na última pesca fizemos apenas metade do dia com uma boa pesca e umapéssima "captura", perdemos três azuis todos commais de 500lbs, as crianças pegaram mais uns doze atuns e Mikkel liberou o seu primeiro marlin branco,bomtrabalho cara. Parece que está bom por agora,temos uma temporada inteira pela frente, fiquem ligados para os relatos.Sairemos de novo na semana que vem.
Cheers.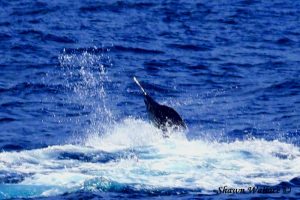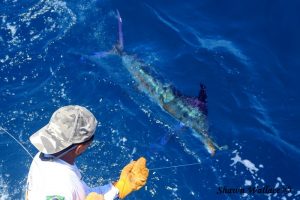 Instagram  https://www.instagram.com/majesticmarlinbrazil/?hl=pt-br