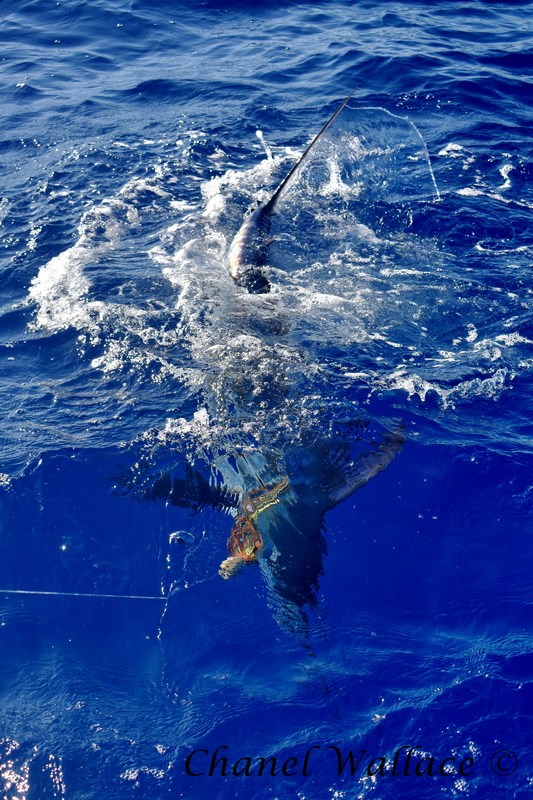 October 28th to 31st, 2019 /28 a 31 de Outubro de 2019
CHARLES, BEV, PETER & VICKY
28-10-2019 Whites 2-1-1 Sails 1-0-0
After a hell of a year battling cancer Charles is back battling marlin with his wife Bev, way to go mate! Coming out with us today also were their good friends, Peter and Wiki Erich and my own tribe also tagged along, having some fun catching small bonito. Charles got a white marlin today followed by a nicely sized yellow fin at 35 kg and Bev catching a 10 kg wahoo for dinner. ASDIP
28-10-2019 Brancos 2-1-1 Sails 1-0-0
Depois de uma batalha e tanto contra o câncer Charles está de volta das batalhas com os marlins com a sua esposa Bev, bravo! Vieram conosco hoje os seus amigos Peter and Wiki Erich e a minha tribo também foram juntos, se divertiram pegango um pequeno bonito. Charles pegou um Marlin Branco hoje seguido de um atum de barbatana amarela bem grandinho com 35kg e Bev pegou uma cavala de 10kg para o jantar. ASDIP
29-10-2019  Blues 2-2-2 Whites 1-1-1 Sails-1-0-0
Another beautiful day on the water with Charles, Bev and their close friends Peter and Wiky today. Charles caught a rat first up in the mid-morning.  Soon after Charles hooked a small white and released it quickly followed by a 600lbs blue marlin hooked on the 50 outfitt which and got the fish to the boat within 10 minutes enjoy the photos. Bev finally had her chance in the chair brought home dinner catching a beautiful Dorato. 2 days down, 2 to go! ASDIP.
29-10-2019 Azuis 2-2-2 Brancos 1-1-1 Sails 1-0-0
Outro dia bonito por aqui com Charles, Bev e seus amigos Peter e Wiky hoje. Charles pegou logo um azul pequeno no meio da manhã. Pouco tempo depois Charles fisgou um branco pequeno e liberou o bichinho bem rapidinho e em seguida fisgou um azul de 600lbs numa lula pequena que  levou o peixe até o barco em dez minutos, vejam as fotos. Bev finalmente teve a chance de ir para a cadeira pegou um dourado  e trouxe o jantar para casa . Dois dias já foram, mais dois para ir. ASDIP.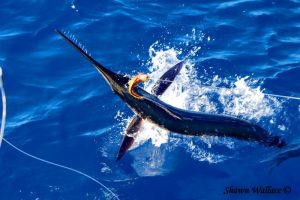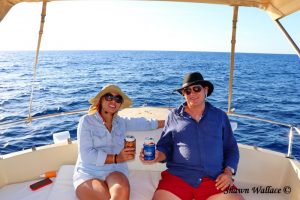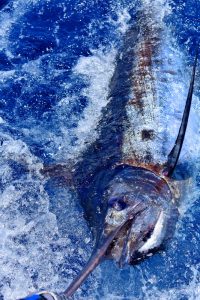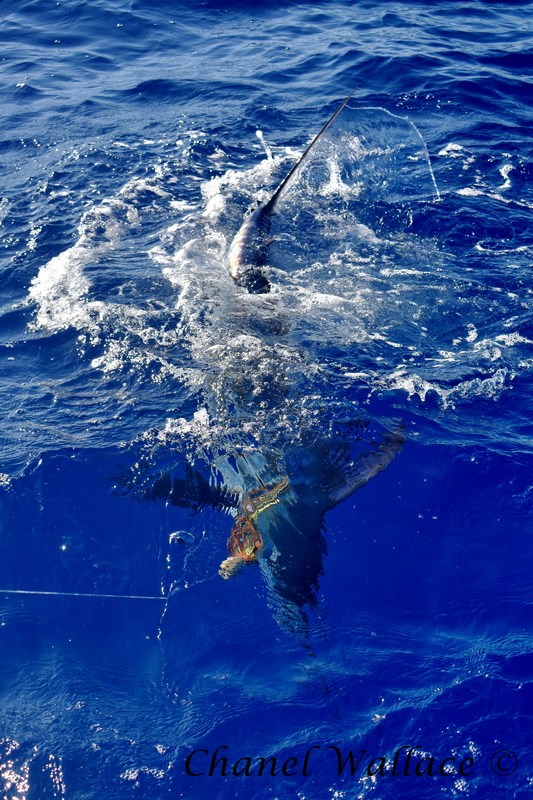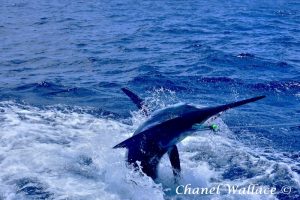 Instagram  https://www.instagram.com/majesticmarlinbrazil/?hl=pt-br