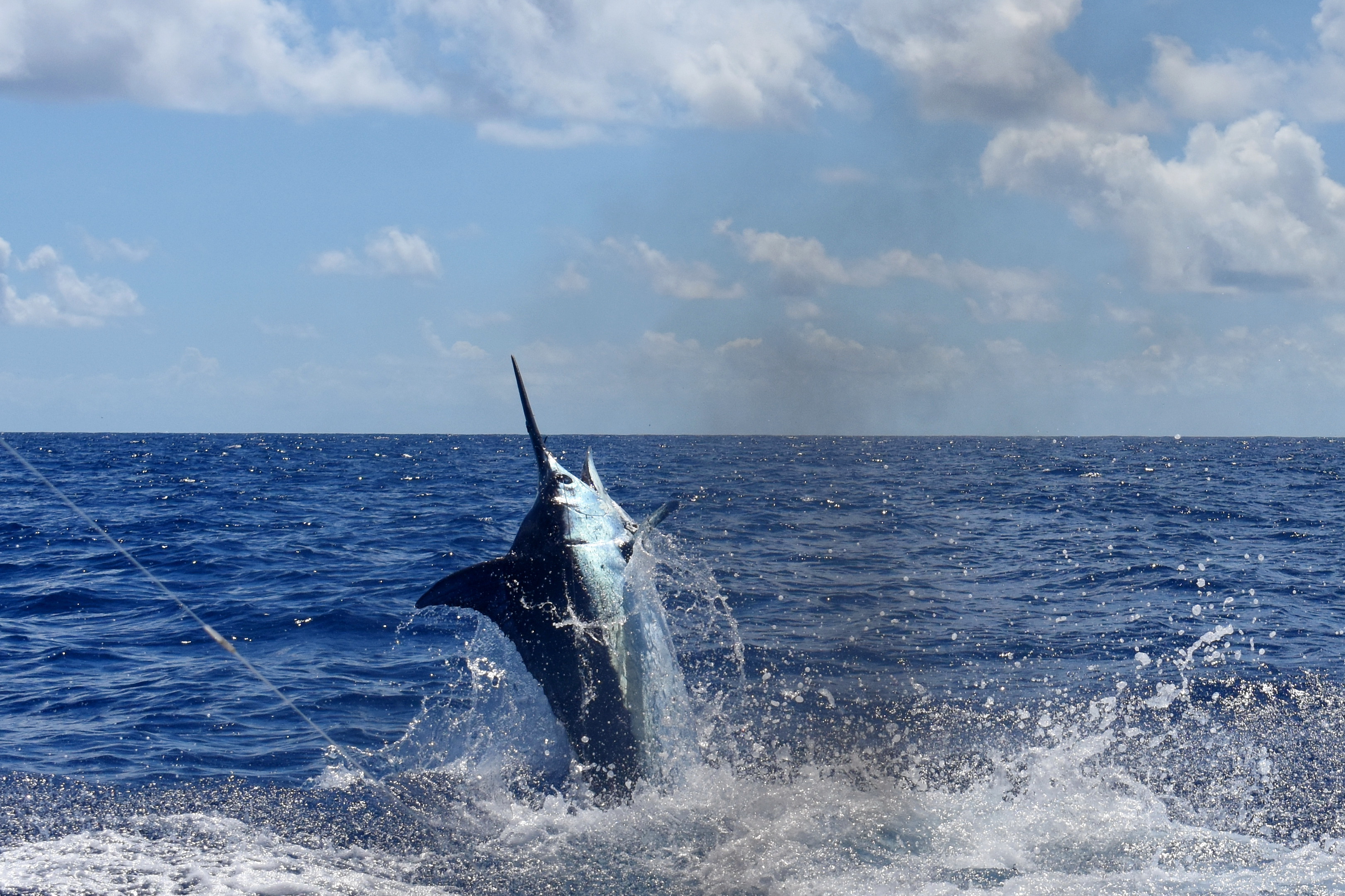 December 10th to 12th, 2019 /10 a 12 de Dezembro de 2019
CATHERINE PICKFORD  & RYAN DEBBS
10-12-2019 Blues 4-4-2  Sails 1-1-1   
First time fishing for Blue Marlins, Catherine surprised her boyfriend Ryan for his 30th birthday with a 3 day fishing trip. Morning started out quickly with Ryan pulling in a nice size Dorado, soon followed by hooking a blue but after 10 minutes the hook was pulled. Another blue bite soon after and Cat was in the chair, after 30 minutes we pulled the hook again. Lunch time hit and a 50lbs sailfish was on the line, after a quick reel in from Ryan we had her in the boat for a few photos before popping her back. 1:30 hit and a big blue was hooked and Cat was on the reel for an hour bringing in a big 800lbs. Shortly after we were hooked again and Ryan caught a nice 750lbs blue after 30 minutes. Congratulations to them both on catching there first blue marlin each, both big beauties. ASDIP.
10-12-2019 Azuis 4-4-2 Sails 1-1-1
Pela primeira vez numa pescaria de Marlin Azuis Catherine surpreendeu seu namorado Ryan para o seu aniversário de 30 anos com uma viagem de três dias de pesca.  A manhã começou bem devagar com Ryan pegando um dourado bem grandinho, pouco tempo depois fisgou um azul que depois de 10 minutos soltou o anzol. Outra batida de azul um pouco depois e Cat foi para a cadeira, depois de 30 minutos perdeu o anzol de novo. A hora do almoço chegou e um sail de 50lbs estava no ponto, depois de algumas puxadinhas de Ryan trouxemos o peixe para perto do barco para algumas fotos  antes de devolve-lo para a água . Às 13:30 um ótimo azul foi fisgado e Cat foi para a cadeira por uma hora  trazendo uma azul de 800 lb. Pouco tempo depois nós fisgamos  outro azul dos bons com 750lbs  depois de 30 minutos de luta. Parabéns para os dois por pegarem, ambos, os seus primeiros azuis, os dois umas belezuras.
11-12-2019 Blues 3-3-2 Whites 2-2-2 Grander
Second day and Ryan and Cat got off to a good start fist up Ryan hooked into a nice blue after a 30 fight he released an 800 lber. Soon after Cat was also hooked to a nice blue that took us  through a school of tuna and cut the line, that sucks. Next up Cat released a lively white marlin. The afternoon bite was a great one took the Beluga S7 Ryan way hooked up again, the big girl headed north into the current and  had to pass through a surface long line added to the excitement after a 20 min fight  Ryan had a grander to the boat great action on the leader check it out. ASDIP. Another tough day at the office.
11-12-2019 Azuis 3-3-2 Brancos 2-2-2 Grander
Segundo dia e Ryan e Cat tiveram um ótimo começo e de cara Ryan fisgou um ótimo azul que depois de 30 minutos de luta liberou um azul de 800lb. Pouco depois Cat também fisgou um belo azul que nos fez passar por um cardume de atuns e cortou a linha, que merda! O próximo da fila foi um branco bem vivido. A batida da tarde foi das boas e levou a nossa S7 Beluga, Ryan já tinha fisgado outro peixe  e a garotona foi para o norte na corrente e passou por um espinhel o que deu mais uma animada, depois de 20 minutos de luta Ryan touxe um grander para o barco, foi um espetáculo no leader. Outro dia difícil no escritório.
12-12-2019 Blues 2-2-2 both Granders.
What can I say Bloddy fantastic fishing for Cat and Ryan. Talk about beginners luck, First up a fantastic bite on the Baluga S5, doing well  she stayed down and was tough for Cat to get her to the boat, but after one hour and 45 minutes André had the leader on another grander, this we got measurements 11ft 6 inch short and 6ft 4 inch girth nice one Cat beats fish J. Why to go girl joins the grander club. 🙂 and this was the small one out off the 3. Soon after Ryan got the bite on the shot gun and it was an explosion the fish was going crazy then settled down and Ryan had the pressure on this girl to get her to the boat for one hour and 15 minutes Renam got the leader and she was a big girl around 1100 lbs, popped the leader trying to get her up, another Beluga S5 gone to the marlin gods. Fantastic day and unbelievable fishing well  done guys welcome to the Grander Club. A few well deserved days off for us. Thanks to everyone that has fished with us so far been another spectacular season for us here at Majestic Marlin. Still plenty of time to come and see our little bit of paradise here in Brazil Canavieiras this should keep going till march so get out of the bloody cold and have a fish.
12-12-2019 Azuis 2-2-2 ambos granders
O que podemos dizer é que foi uma pesca fantástica para Cat e Ryan. Vamos falar sobre sorte de iniciante? De cara tivemos uma ótima batida na Beluga S5, estava indo bem, ela ficou embaixo da água e foi difícil para Cat trazê-la para o barco, mas depois de uma hora e quarenta e cinto minutos André pegou o leader e outro Grander, conseguimos medir o peixe com 3 metros e 16 centímetros (medição curta- bico até antes da barbatana da cauda) e 1 metro de 92 centímetros na sua circunferência e então a Cat deu conta do peixe. É isso aí garota, se juntou ao clube dos Granders. J Um pouco depois Ryan conseguiu um ataque de um ataque no "shot gun" e foi uma explosão e peixe foi a loucura, mas depois se acalmou e Ryan tava com muita pressão na carretilha para trazer a garotona para o barco por uma 1 e 45 minutos e então Renam pegou o leader e era uma garotona mesmo com cerca de 1100lbs, deu umas pipocadas no leader tentamos levantá-la, mas que peixe inacreditável, bom trabalho pessoal, bem vindos ao clube.  Alguns dias de uma merecida folga para nós agora. Muito obrigada a todos que pescaram conosco até agora tem sido uma temporada espetacular para nós na Majestic Marlin. Ainda temos bastante tempo pela frente e o nosso pedacinho de paraíso aqui no Brazil, Canavieiras. Isso deve durar até março então saia desse frio e venha pescar conosco.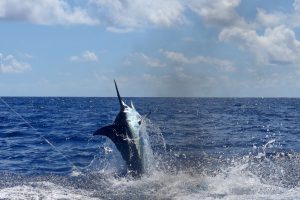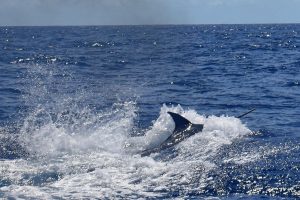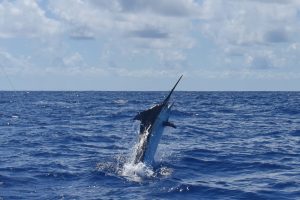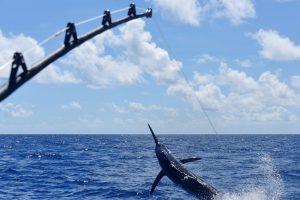 Instagram  https://www.instagram.com/majesticmarlinbrazil/?hl=pt-br
Facebook Majestic Marlin[/vc_column_text][/vc_column][/vc_row]